If you want your photos to look better, try this exercise: after you take a shot, look at it and look at the scene and ask yourself, "How can I make this a better shot?" Can you move in on one piece of the image, add light from the flash, or remove the flash? If you step to one side will it change the background? What if you switched from landscape to portrait mode? Often just a slight change in the camera's perspective will add new life to an image.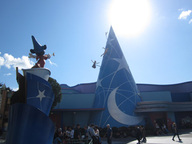 To start, I took a quick shot as I liked the way that the sun caught the edge of the hat.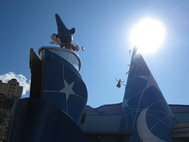 To make the image better, I moved in closer, lined up the sun just on the edge of the hat, framed Mickey and the hat on the rule of thirds, and best of all, cropped out the other tourists.