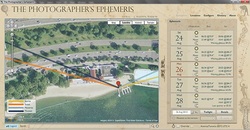 Here is a great new tool for the outdoor photographer. It not only gives the times of sunrise, sunset, moonrise and moonset, but also displays the information overlaid on a Google map.
With
The Photographer's Ephemeris (www.photoephemeris.com),
you can plan where you need to be to get the sun/moon relative to your subject. For example, you want to photograph a unique building with the sunset behind it, so where do you need to be in order to get that shot and when do you need to be there? With this program, you click on a spot near the building to place a marker, and a line will show you where the sunset will appear relative to that spot. Move the marker around until the line of the sunset appears where you want it on the building. That is the spot on the map where you need to be for that shot, and the time of the sunset is indicated on the screen. In the image below, to get the sunset photo of the lakeside pavilion, the orange line indicates that I need to be by the docks on the shore at 8:03PM, on August 26.
This can be a big time saver when planning your photo session, especially if you have to organize people in your shot. As an extra bonus, the desktop version of the program, PC or Mac, is free. There is a charge for the IOS or Android versions due to Google maps licensing.
The only thing this program can't do is tell you whether or not the sunset will be
gloriously colourful or not. If you shoot outdoors, get this program. It can be used in so many ways and may inspire you to get a shot that you thought was impossible.