You have the equipment, you know how to use it. You can make great shots, but sometimes you just need some luck to get that shot. Case in point; the groom is standing on the bride's dress, I raise my camera and someone steps in front of me. I lean around the person for the shot, but the moment is gone, the couple has moved on. It is one of the missed shots. No luck that time.

Another example is the small puddle of water. I saw a video where a photographer showed how he captured a great shot using a puddle to reflect the main subject. Inspired, I was always on the lookout for a good "puddle/subject" shot. For months I looked around. Here is a puddle, but all I see in the reflections are power lines or street curbs. I tried to make a puddle with a bucket of water, but all I got was a wet sidewalk. Then one day I was in a park to take photos and came across an arched bridge, with a puddle in the middle of the street. Sprawled out on the street, I got my "puddle" shot. Fortunately for me, I had a bit more luck. The street was part of the parking lot for the park, so traffic was very light and slow.

Luck does play a part in getting a unique shot. Having the skills to take advantage of it is not a matter of luck. Practice, practice, practice is the order of the day. You never know when that sunrise/rainbow/groom on the dress moment will happen and you don't want to miss it.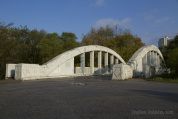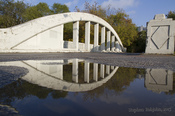 Small puddle, big results when you know what you are doing.

* Thanks to Stephen Rabjohn, ace photographer, for this week's contribution.