Time to get back to an article about design. Today I want to talk about how effective the use of leading can be in design. I also want to talk about how taking leading out can be a design feature as well.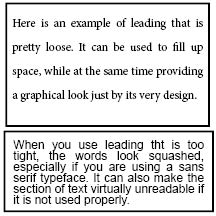 What you see on the left hand side are two examples of leading. The first one uses 12/24, ie. 12 point text with spacing of 24 points between the lines. The second example is 12/11, 12 point text but this time, using only 11 points of spacing between the lines. In the second case, it means the spacing between the lines is less than the height of the characters within the paragraph.

I have also used a sans serif typeface to emphasize the difference between the two types of leading in this second case. It is harder to read isn't it? The words don't flow as easily and it is actually work to read it.

While the first example is pretty loose, and I wouldn't use it for large amounts of text, it is effective here, making the text look pretty square in and of itself.

Most software packages have a default of adding two or two and a bit points of leading more than the font size. Don't feel compelled to stick with the defaults. Sure it "generally" looks okay, but it is only a starting point. If you want to make your work stand out, take some chances, don't go with the default. Play around with different settings and set five or six examples out on a page. Spend some time just looking at them and you will start to see what looks more appealing. Sometimes design is a gut feeling. Once you understand the rules, you can trust yourself to break them effectively.